East Coast Overhaul offers the world-class experience of having your classic Defender customized by an unmatched industry leader in Land Rover Defender restoration. As an entity of ECD Automotive Design, you can expect your restored Defender to be upgraded with the utmost attention to quality, detail, and performance. ECO will transform your classic icon into a jaw-dropping custom Defender, a true one-of-a-kind beauty demanding to be driven. From a redesigned interior to a modern drivetrain, you can enjoy selecting every detail of your newly restored Defender. ECO delivers your Land Rover Defender with performance upgrades fit for the 21st century with detailed craftsmanship.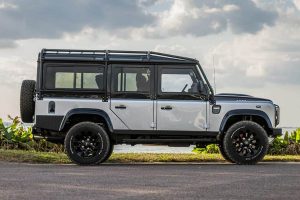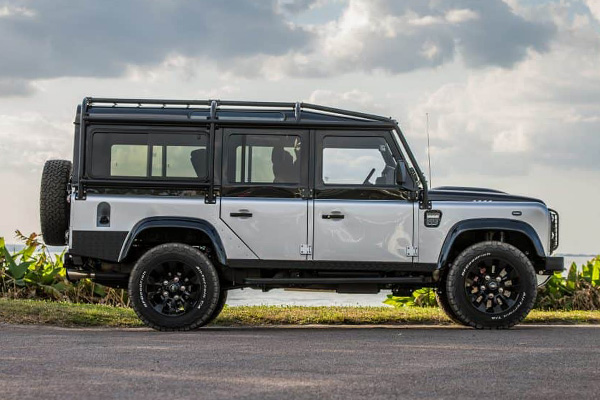 ECO delivers on creating your dream interior for your custom Defender. Customized down to the color and design of the stitch, your restored Defender can be rebuilt with upgrades such as all-new Recaro, Corbeau, or Puma seats, hand-selected material such as premium leather, and an upgraded Puma dashboard with a modern infotainment system.
All new carpet, rubber floor mats, and a new headliner can add a touch of luxury to your build. Regardless of your style holds true to the nostalgia of the classic Defender or leans more toward a luxurious, modern machine, an all-new interior can completely transform your custom Defender. With virtually unlimited options, customize your Defender's interior to fit your lifestyle, individuality, and needs perfectly.
ECO has a limitless collection of vendors to provide your custom Defender's exterior with all the right gear with a wide variety of exterior accessories and options.
If you plan on taking your restored Defender offroad, external accessories such as a winch bumper, a fully capable roof rack, and all-new LED spotlights can make your next outdoor adventure a truly fun experience. Prefer the urban roads and city drives? Modernize your build's exterior with any Kahn accessory options, from the Xlander grille to a wide body kit. With our state-of-the-art in-house paint facility, ECO offers every color you can imagine for your build's exterior, whether your style calls for a traditional Land Rover color or you want it to match a color you've grown to favor.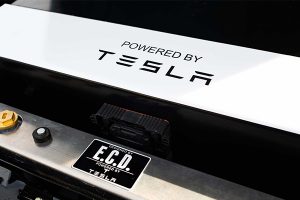 ECO offers several drivetrain options that can upgrade your Defender's performance. The LC9 drivetrain upgrade provides a reliable and durable V8 option.
Our most popular option is the Chevy LS3 drivetrain offering 0-60 mph in 6 seconds, perfect for daily drivers. For those who want a growl to the start of their Defender, the LT1 and LT4 options transform your restored Defender Defender into a true powerhouse ready to take on anything. All of our GM Chevrolet drivetrain options offer a 2-year, 50,000-mile warranty. If you prefer to keep the heritage of the Defender intact, the Cummins 2.8L Turbo-Diesel engine is perfect with 160-hp for a more traditional drive. Bringing your classic Defender into modern times, our Tesla Direct Motor is ideal for convenience with the ability to charge at any of Tesla's 25,000 locations. Whichever engine option you choose, it's guaranteed your restored Defender will be the ultimate daily driver. A true custom defender add-on for an innovative creator.

Request Your Customized Defender
Our dedicated and experienced team will take the utmost care with your vehicle and deliver something back to you that will make you smile for years to come.
GENERAL CONTACT
Address:
4930 Industrial Ln, Kissimmee, FL 34758
Speak to our Sales Director or get General Info:
(407) 483-4825
Email:
info@eastcoastoverhaul.com
Save
Save