There is so much that can be done with innovative engineering in regards to that aging Land Rover Defender in your garage. Some of this comes from the versatility of the Defender itself; designed for function, these trucks have the ability to transform into both off-road experts and the ultimate luxury truck. But, as any Defender owner knows, all of that exterior glitz means little if the unit that powers the truck is itself a relic from the past. It's important to consider the ultimate modification: a Land Rover Defender engine swap.
When dropping a new engine into a complex vehicle like a Defender, only the best mechanics and engineers in the world can truly be trusted. We've gathered them under one roof at East Coast Overhaul. ECO's mission is to transform that sluggish performance you've grown used to in an older Defender, and simply blow the doors off it with an all-new system.
With an engine swap, you'll receive the best of both worlds: improved handling and drivability, as well as jaw-dropping performance and speed. The trucks that roll out of our garage after a Land Rover Defender engine swap can do 0-60 in under seven seconds without batting an eye.
Suddenly, a truck with the size and brawn to handle any back road in the country can now match-up to many sports cars right off the line. We accomplish this by installing one of two engine types. Choosing between the two is up to you, the client, and leaves a few things to consider:
The Chevrolet LC9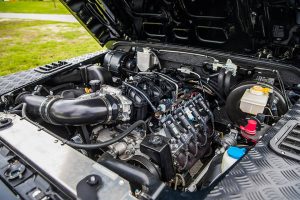 Often used in the Chevy Suburban, this is an engine that was built to handle a large chassis and respond with exceptional performance characteristics. This option is great for those who look to increase the drivability of their Defender. But make no mistake, the LC9 is no slouch: it's 5.3 liters and 320 horsepower packed into a V-8 engine. Dropping this into a Defender combines power and balance in a modern package to create a terrific daily driver.
The Chevrolet LS3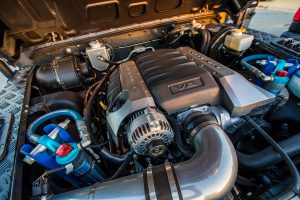 Designed for Corvettes, this is the engine swap for those looking for peak Defender performance and speed. The difference in power will be immediately felt no matter what you currently have under the hood, and this engine makes a retrofitted Defender an absolute jaw dropper. The stats tell most of the tale: 6.2-liter, 430-hp V-8 engine, and don't forget that enhanced 0-60mph speed.
Whichever Land Rover Defender engine swap you select, you'll be upgrading performance to an elite level with the help of world-class Defender builders. Beyond the engine, we also upgrade all of the supporting systems like that transfer case, harness, axles, brakes, and much more. As we pioneer Defender rebuilds for the 21st century, you can rest assured knowing your modification is on the very cutting edge.