Being a custom vehicle builder, ECD, with its overhaul line ECO, has a state-of-the-art paint facility within its 30,000 sq ft walls. The state-of-the-art paint booth, partnered with PPG and other quality paint vendors, allows ECD to bring any custom and hand-mixed paint color to its one-of-a-kind custom Defender builds. While most build's stick to a modern or a more traditional color, here's a look at ECD's top 5 custom Defender paint jobs.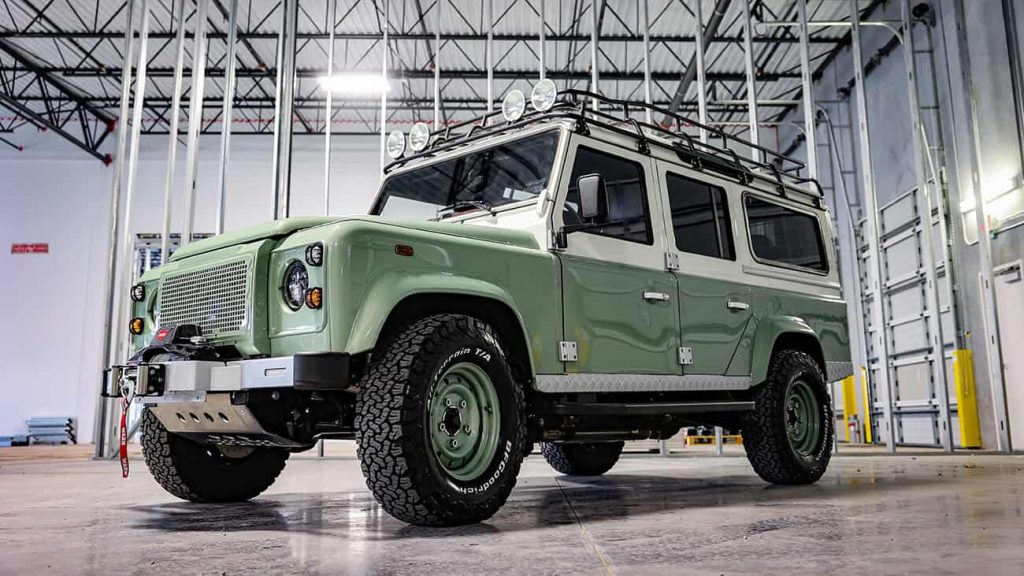 Project Santa Cruz
ECD's Project Santa Cruz took social media by storm with its two-toned traditional color. The vintage custom Defender has a gorgeous traditional look to match its dual traditional Land Rover colors with Grasmere green on the lower half of the vehicle (including its classic spoke steel wheels) and Chawton white on the top. The complementary color design was a first at ECD, and the results were stunning. You can view Santa Cruz here.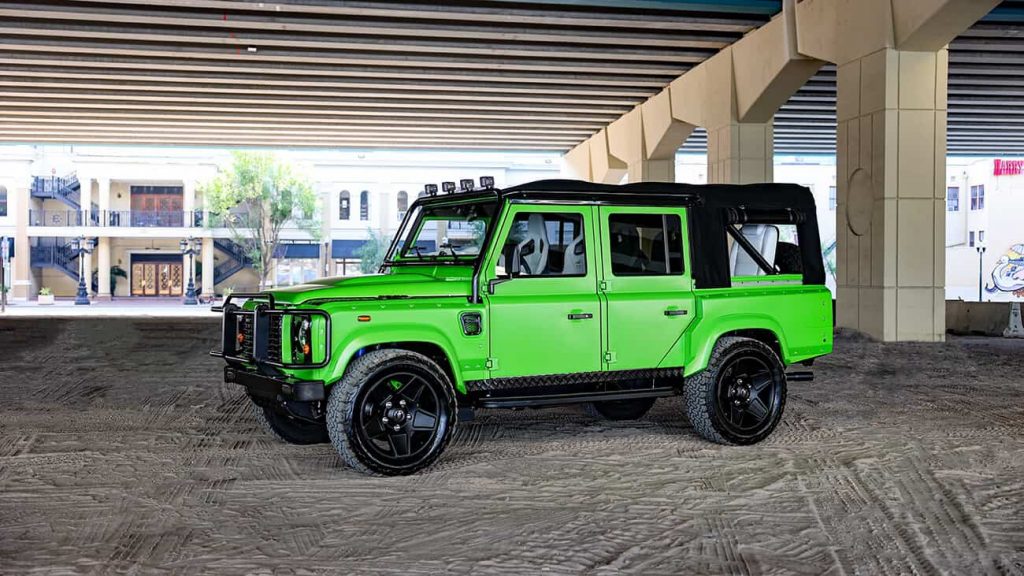 Project Naw
The world watched as ECD's paint tech lead, Hector, layered on a Lamborghini Verdi Mantis for Project NAW. The shocking color had fans both excited and enraged as the completely non-traditional color made the vehicle a true head-turner. The paint job on the bright "lime green" custom Defender has gained thousands of views with its all-white interior, Khan wide-body kit, and convertible black top with matching accents. You can view the raging green color of Project Naw here.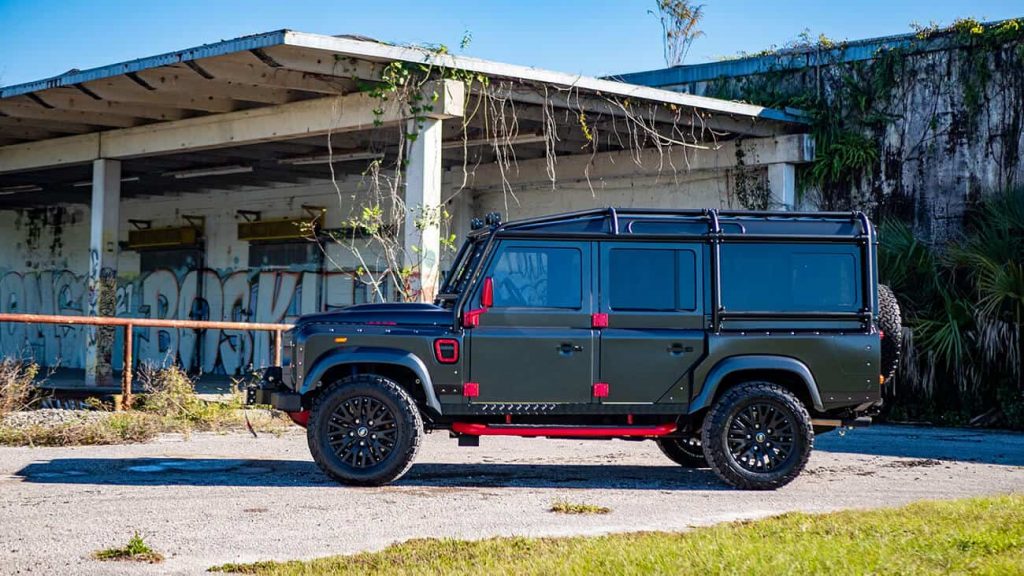 Project Tormenta Negra
Project Tormenta Negra is another paint job first in Vulkan Grey Pearl in an eggshell finish. The matte-painted custom Defender 110 not only has a unique main color, but the design opted to have a majority of the build's subtle exterior accents in a shocking bright red color. The side mirrors, hinges, and side steps are just some of Tormenta Negra's custom red accented parts. This build is a great example for those who want a splash of color without overwhelming the vehicle. You can see Tormenta Negra here.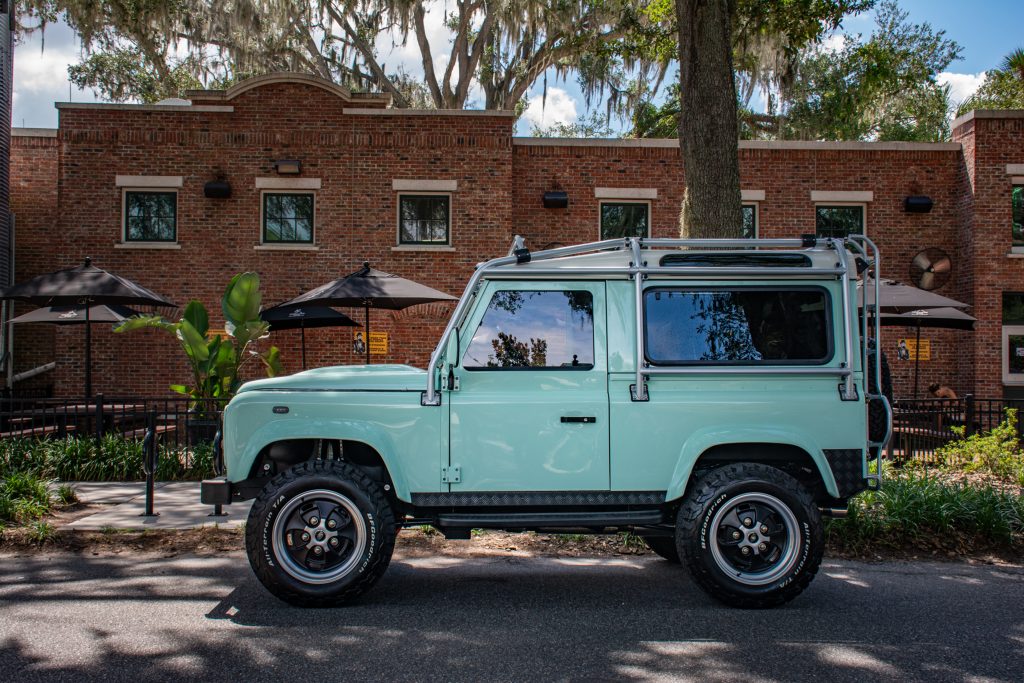 Project Dante
Simply put, this custom Defender 90 is a true stand-out. The small and agile D90, an ECO Overhaul, was originally painted a stifling gray that was rusted and chipped in areas. Upon arriving for ECO services, the color was beautifully repainted to the unique color of latte menta, a soft mix between green and bay blue. With silver accents and special-ordered Kahn Rostyle wheels, the build is a definite head-turner. See Project Dante here and on our available Defenders for sale page here.
Project Sunfire
Another ECO alumni, Project Sunfire, was a simple overhaul. The magic behind this build is that it was painted to match the client's wife's absolute favorite dress. To color match the dress, his wife brought the dress in, and ECD developed a custom paint color based on the dress's color match. As a result, the custom Defender 110 was painted the outrageous color of a deep Fuschia that also sparkled. That's right, a sparkling Defender. The pink and sparkly vehicle goes completely against the "nature" of the offroad vehicle, but here at ECD and ECO, custom means custom! More Project Sunfire images are available upon request.
Ready to get your custom color on your custom Defender? Get in touch! Visit our showcase page for more custom color inspiration.