When getting your Defender overhauled through ECO, you have a range of customizations you can make to upgrade your Defender. A new drivetrain, full exterior overhaul, and an all-new modern and convenient interior are some of the overhaul services ECO offers. If you're interested in getting an all-new interior, here are some of the various interior overhaul options to make your build into a custom Defender.
Customized Seats
With an all-new interior, you can push your overhaul to the further reaches of your imagination with ECO. Have us upgrade your custom Defender to have an all-new seating layout to include more seats, storage, or a custom box or audio setup. You can add jump seats, bench seats, or folding stowaway seats for your build. You can also have your seats upgraded. Recaro, Corbeau, Puma, Elite, and Exmoor are some of the new seat choices you have and with new seats come new upholstery. 
Upholstery in our Custom Defenders
At ECO, our in-house upholstery team, a group of highly talented individuals, takes your dream interior and brings it to life. Start by choosing from a wide variety of materials in various colors for your custom Defender's new interior. Premium leathers, specially sourced animal skins, and cloth fabric are some of our most popular interior upholstery materials. Once you choose a material, your next step is selecting the color and the color of the stitching throughout the vehicle. Red, black, and tan are frequently preferred, but white, cow skin, and orange are also designs we've seen. You can utilize our 3D software to test out a few Defender interior upholstery ideas if need be.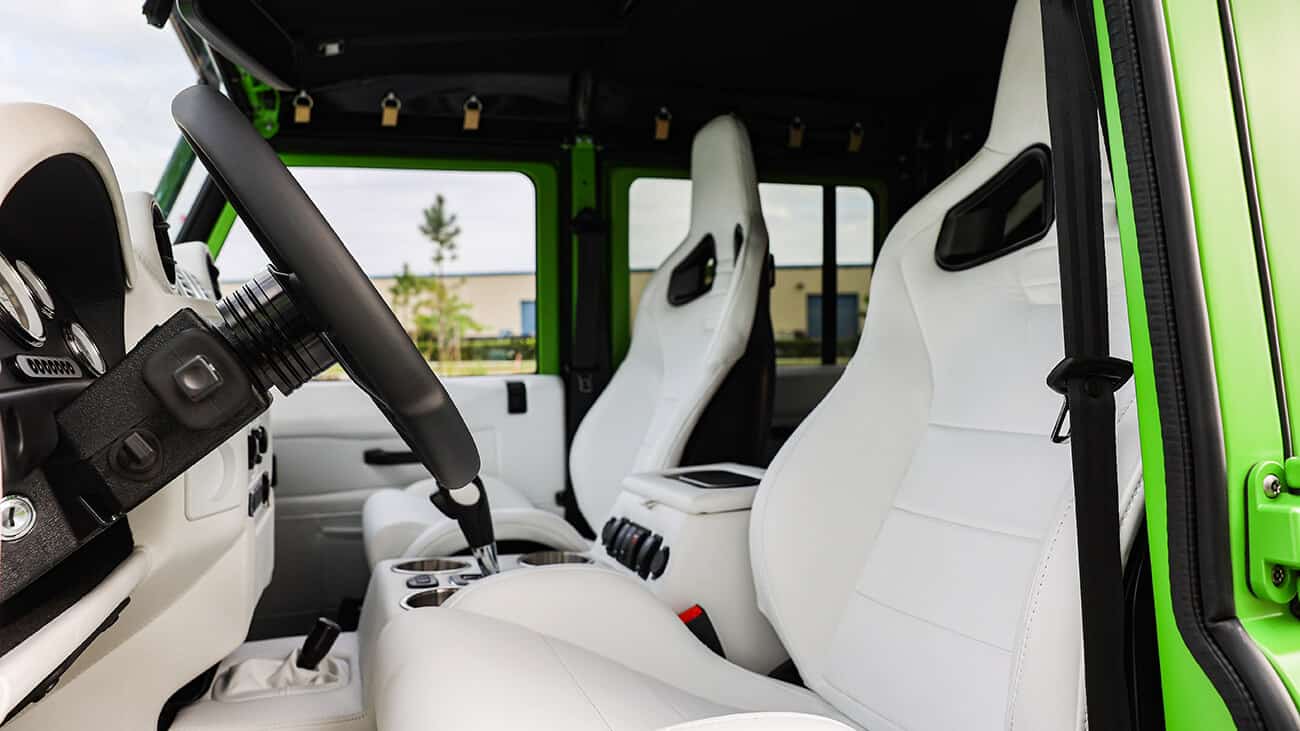 You can also select from a range of stitch designs. Straight, patterned, and diamond stitch are some popular styles, but ECO offers custom stitch designs, such as honeycomb stitch or embroidery. With the colors and materials selected, our upholstery team works to refinish your custom Defender's interior to match your designs. These stitch designs can be on the seats, dashboard, or door cards. Customize your vehicle's headliner for a unique look with a bold color or even a customization like our custom starlit led headliner inspired by Rolls-Royce.
Modern Upgrades in Defender Interiors
A/C (and rear a/c), custom center console, wireless charging, 12v outlets, and hidden storage boxes are a few modern conveniences you can have in your custom Defender. Optimize your infotainment system to include an all-new radio system with options like Sony, Alpine, or JBL. Design your custom Defender with custom buttons or custom features, such as a CB radio, wifi, or an electric shifter. Custom storage boxes, glove compartments, or even refrigerators are available for your build's interior. The options are virtually limitless.
If you're ready to customize your Defender's interior, email info@ecdautodesign.com.