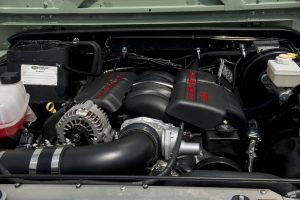 Having a world-class engine under the hood of a Land Rover Defender is an essential aspect of making it a true driving machine. Although the factory spec engine that you probably have in your version seems fine at the moment, an upgrade in performance and capability will absolutely change the way you drive. At East Coast Overhaul, we primarily install two types of custom built engines: the Chevrolet LC9 and the LS3. Both make for highly transformative Land Rover Defender engine upgrades, but each comes with a specific set of specifications that may make one more useful for your driving needs.
The installation of both engines is an intricate process that only the most experienced truck craftsmen even attempt. Defenders are like no other vehicles, and their unique design lends to some complicated modification techniques. East Coast Overhaul will not only be installing an engine, but retrofitting your entire drive system. Some of the parts of the process include:
Upgraded transfer cases (with a LT230 late style).

Completely rebuilt axles created to NAS (North American Specification) requirements.

Wilwood brake installation to handle more powerful engines and to provide improved stopping power.

New cooler lines, aluminum radiator, AC condensers, in-tank high-performance fuel pump, and, of course, a new shifter.
It's safe to say that installing a new custom engine is an intensive job, but it's one that the East Coast Overhaul team takes pride and care in doing. Before getting into the transformation, it's critical that we pick the right engine for you. With that in mind, here are some of the key differences between the LS3 and LC9:
Chevrolet LS3 | 6.2-Liter, 430-hp V-8 | 2 Year/50,000 Mile Warranty
The Chevy LS3 is the more performance heavy of our two commonly used engines. Originally designed for Corvettes, installing this into your Defender will give it some real kick: like 0-60mph in six seconds kick. The LS3 turns your Defender into a beast under the hood.
Chevrolet LC9 | 5.3-liter, 326-hp V-8 | 2 Year/50,000 Mile Warranty
What the LC9 takes back in power (and it isn't much), it gives back to you in balance and ease-of-drive. This is a more relaxed engine that provides the smoothest ride and can be easily driven by everyone in your family. It's a great fit as an everyday all-purpose engine.
So, which engine works best for you? We test the Land Rover Defender engine upgrades to the extreme, going over 500 miles before we are satisfied with the quality. This dedication to quality coupled with our decades of experience makes us a great resource to help guide your decision. Drop by East Coast Overhaul, or contact us today to set up your Land Rover Defender engine upgrade.