Land Rover Defenders are unique and complex vehicles. Most varieties are based on designs that stretch back deep into the 20th century, and most Defenders themselves were built as many as twenty or even thirty years ago. As a result, completing a Land Rover Defender engine upgrade takes considerable skill and care. It also takes decades of experience, which, at East Coast Overhaul, we have plenty of.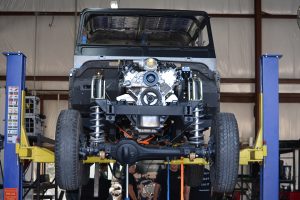 When talking about the specific parts to an engine upgrade, we can break the process down into its individual sections. First, engines are replaced by an astonishing Chevrolet LS3 or LC9. After, the truck will have an almost unthinkable handling and performance change.
New Engine Mounts: We completely replace and change out all engine mounts. This is necessary due to the different shape of the engines we drop into these Defenders.
Wilwood Braking Kits: The performance upgrade makes it important that we include a braking upgrade as well. These top-line Wildwood brake kits can handle anything thrown at them and work perfectly to harness the newly-gained power.
Fully-Rebuilt Axles: The axles are completely broken down, rebuilt and resealed before being reinstalled into your Defender.
New Fuel & Oil Cooler Lines: These are also replaced completely with stainless steel offerings and allow the new engines to run smoothly and cleanly.
Transmission Replacement: We have options that range from six-speed manual to six-speed automatic transmissions.
Handmade Center Console: These consoles include an abundance of detailed accessories (additional cup holders, secret compartments, wireless charging pads, Apple Car Play dock, etc.) and also work to be fitted exactly with the shifter type selected.
Transfer Case: Key to transferring power from the transmission to the front and rear axle, a well-crafted transfer case must work hand in hand with the engine. We drop an upgraded, late-style LT230 into your truck.
Our LS3 or LC9 Chevrolet engines are the perfect Land Rover Defender engine upgrades that takes your truck to a new level in capability. Additionally, they're backed by a 2-year/50,000 mile warranty allowing you to take your truck to any Chevrolet dealership for any necessary warranty work.  Prepare to be amazed by both the places you can go and the feeling of having a new truck engine under your feet.